Email

Print
Deep Fried Eggplant Sticks
Ingredients:

1 Eggplant
2 eggs, beaten
Italian style bread crumbs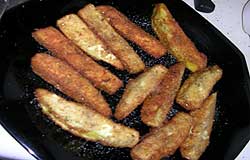 photo credit :
Ralph Smith
Directions:
1.) Peel and cut eggplant into strips about 1" thick. Place breadcrumbs on a sheet of wax paper or a medium mixind bowl.
2. ) Break eggs into a medium mixing bowl and beat with a whisk until the yolk is no longer separated from the rest of the egg.
3.) Dip the eggplant strips into the egg mixture and then into bread crumbs coating the eggplant strip as thoroughly as possible.
4.) Fry until golden brown.
Author's tips : - Using a
Deep Fryer
is the best way to achieve a perfect browning. - If you are trying to get children to eat this recipe, be sure to choose a firm, fresh eggplant for your recipe or you will end up with mushy eggplant sticks and kids don't like mushy vegetables. - Serve with Marinara Sauce or a Ranch dip for extra flavor
Makes 8 Servings
Prep Time: 10 min
Cook Time: 10 min
This recipe has not been rated or commented on